Our Story
A New Concept in Shipping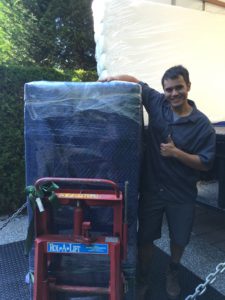 Access Gentle Moving is owned and operated by Todd Brenden, a native of the beautiful North West. Todd's innovations in equipment design and organization, strength and endurance has successfully handled and completed the most challenging shipment relocations, resulting in Access Gentle Moving widely being considered the "go-to" company for complex moving requirements, extreme situations, and projects of the largest scope (over 100,000 lbs).
Dear Todd and Crew; thank you so much for all your hard work on our move to Kirkland. You did a great job. We will pass your name along to anyone who might need your help. Thanks again! – JB
Todd graduated from Liberty High School in Renton, excelling in Boy Scouts, and went on to Renton Vocational Tech. Todd has held jobs since the age of 11, but found his true passion when working for one of the larger interstate carriers, for whom he quickly became a Van Foreman. Todd has brought hard work and a winning attitude to every job.
To Whom it my concern; I want you to know how pleased my husband and I were with the way our move was handled… they were nice, careful, th0ughtful, cautious, and professional. – DI
Access Gentle Moving is the primary mover for over 3,600 corporations and more than 4,000 residential clients. Clients include the Bellevue Art Museum, WA. Dept. of Health, Washington State University, Washington State Patrol, Washington Department of Transportation, Safeway Corp., Paccar, Microsoft, Boeing, WA Dept. of Licensing, Washington Department of Employment Security plus thousands more local, interstate and international relocations.
Moving Beyond Expectations
Todd utilized his skills to hit the target of "Moving Beyond Expectations." Founded in 1990, Access Gentle Moving Corp., brings applied safety, skill and efficiency to every relocation performed. Thousands of home and business families have been professionally relocated by Todd and Access Gentle Moving, and Todd has has built the most satisfied client data base in the Greater Puget Sound area!
Dear Mr. Brenden; this letter is written to thank you and your crew for the exemplary job you performed for us during our move… I overheard several comments spoken from my co-workers about the performance of your team. 'They all seem to be having fun.' 'Boy, do those guys hustle.' 'I think they've done a fabulous job.' … It was a pleasure working with you, Todd. Your professionalism and proven experience made a difficult situation… pleasant. – KV
Specialization
We use cutting edge technology and the most modern equipment. Our specialties include professional packing and crating, international transport, safe and vault moving, piano moving, local and interstate freight, household tonnage inventory, tariffs and paperwork. Regarded by our competition and clients as one of the top movers in Washington state, the integrity and reliability we bring to the table unmatched.
Relocation Industry Experience:
Professional Packer- since 1977
Piano moving expert- since 1977
Project coordinator (van foreman) since 1978
Warehouse manager- since 1978
CDL local and interstate- since 1982
Sales manager/Rep.- since 1988
Dispatch/operations manager- since 1990
Marketing Director- since 1990
Household Goods Carrier (UTC: 11859, DOT: 1370158)- since 1990
Education & Achievements:
Washington State Carrier Representative (WUTC) 1990 – present
Bellevue Chamber of Commerce Ambassador 2007 – 2008
Washington Real Estate licensed agent 1988 – present
Lake Washington Vocational Tech 1988 – 1989
Dale Carnegie Graduate/Book Award Graduate Assistant status 1988
Highline College Tech Drawing 1988
Allied Van Foreman certification (Seattle) 1986
Renton Vocational Tech 1984-1989
High School Diploma (Liberty High School) 1979
We'd love to earn your business!
Todd resides near Issaquah, Washington with his wife, son and daughter. In his spare time, Todd relaxes with hiking, reading, biking, guitar, strength training, and motorcycle riding.